S. S. Bazinet and My Passionate World of Writing
After having writer's block for many years, I made the best decision of my life. I decided to have fun. The day that I made that decision, everything in my writing world shifted. A story started writing itself. Within a little more than a year, I had completed six books in a series called The Vampire Reclamation Project. The story continues to write itself as its characters learn more ways to find what's been lost, just as I found my "lost" passion by writing about them. So my wish for everyone is that they find the same ease and joy I have in my life by letting go of what doesn't work and embracing the things that bring them joy.
——————————————————————————————————————-
THE VAMPIRE RECLAMATION PROJECT SERIES
First Book: Michael's Blood
How far will an angel go to save a vampire? Michael, an incarnate angel, shares his blood in an effort to purge Arel of his vampire curse. But Michael's blood comes with a lethal warning. When Arel ignores it and nearly perishes, it's time for Arel's new, human friends to join forces with the angel. Will their combined efforts be enough to help Arel to reclaim his soul from darkness? Or will a terrifying secret, hidden deep in Arel's past, become a barrier that no human or angel can cross? Read more here.
BOOK ONE – PAPERBACK: Amazon and Barnes & Noble    EBOOK:  Amazon
BOOK TWO – EBOOK: Amazon
——————————————————————————————————————-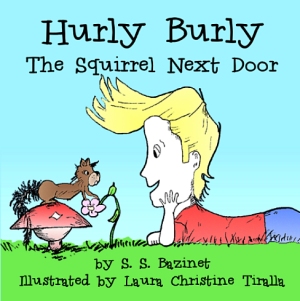 HURLY BURLY THE SQUIRREL NEXT DOOR
I am delighted to introduce one of my favorite scamps, a squirrel named Hurley Burly. He has the lead in my new children's book called, Hurly Burly, the Squirrel Next Door. Hurly is adorable, but what kind of house guest would he make? You'll find out in this humorous book for children of all ages. For more information, please check out my website.
PAPERBACK: Amazon and Barnes and Noble
EBOOK: Amazon