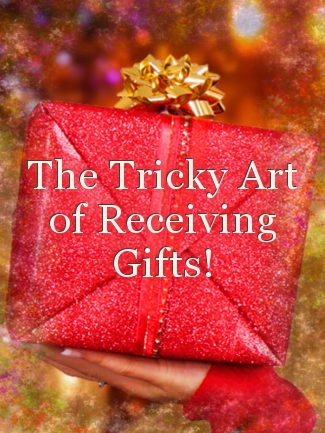 The Tricky Art of Receiving Gifts!
In this season of giving and receiving, the art of "receiving" gifts can be tricky. Gifts can become a hassle instead of being something enjoyable! In some cases, people don't feel worthy to receive a gift. But even if that's not the case, it's common for us to make a hasty retreat if we feel the gift will connect us to a person whom we don't like or trust. And most people get squinty-eyed when they think there might be strings attached to the fancy bows and gold foil. Occasionally, at the end of the day when we're exhausted, we simply don't have enough energy left to express appreciation to the giver.
"Receiving" With More Ease
Here's one possible solution for easing our way through all of the difficult situations of receiving. We can accept our feelings, even if they're negative. We can give ourselves permission to feel the way we do.
The holiday season can put extra stress on everyone. But every day and every moment, we have our own thoughts. No one is privy to them. Those thoughts can bring us comfort or more stress. So let's take ourselves inward, to that island of thought that is ours and ours alone. Let's pull in our energy and breathe a few times. We might even let out a quiet sigh. Once we are present with ourselves, let's repeat as many times as necessary, "It's okay to feel how I feel."
In other words, let's appreciate and validate ourselves without any conditions attached. That's the gift of freedom that we can give ourselves! If there's a problem with receiving that gift, maybe one of the articles listed below will help.
"And you receivers – and you are all receivers – assume no weight of gratitude,
lest you lay a yoke upon yourself and upon him who gives.
Rather rise together with the giver on his gifts as on wings . . . ." —Kahlil Gibran
———————————————————–
5 Reasons Why Receiving Is Harder Than Giving By John Amodeo, PhD
Mastering the Art of Receiving by Jovanka Ciares
—————————————————–
Photo credits:
Fractal Mosaic by Piotr Siedlecki
Santa Girl by Petr Kratochvil
Christmas Light Decoration by Petr Kratochvil