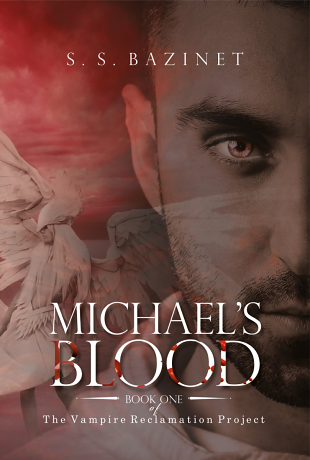 THE VAMPIRE RECLAMATION PROJECT SERIES
First book in the series: Michael's Blood
Category: Paranormal, Fantasy
A vampire named Arel is hell-bent or more precisely, heaven-bent, on freeing his soul! His plan is simple. He believes that he can reverse his cursed condition by ingesting a little angel blood. Michael, an incarnate angel and Arel's friend, advises that the remedy could be hazardous, but Arel is determined to take his chances. He won't entertain the thought of what terrible consequences could be in store for him. After the deed is done, Arel and Michael join forces to control what's been unleashed in Arel, but the blood coursing through Arel's veins is always a step ahead of both vampire and angel. Michael's Blood is nearly 133,000 words or about 386 printed pages.
Available as a printed book on Amazon and Barnes and Noble. Available as an eBook on Amazon.
---
Five Star Reader Reviews
"Who knew Vampires could be so interesting? Certainly not me and thanks to Ms. Bazinet, I'm now a fan of the subject matter. Smartly written, this book is more than just interesting as the transformation of Arel was compelling, engaging and believe it or not, for me, so relatable." Marguerite Manning
"It is not often that one can say a book that involves a vampire is truly unique. However, I will go out on a limb here and say THE VAMPIRE RECLAMATION PROJECT is deserving of this accolade. Arel is a vampire seeking redemption. Michael the angel, with great trepidation, lets Arel drink some of his blood. With that the fascinating tale unfolds." Ronald C. Tobin
"Michael's Blood is the first book in The Vampire Reclamation Project. This ambitious series ostensibly about vampires and angels is not afraid to tackle the darkest parts of personal and human history. If you've ever had nightmares about unspeakable horrors, and you know inexplicably that man's inhumanity to man is part of your personal history, this book will ultimately give you courage to carry on. It is riveting and timely and inspired." DAZ
"I have never read a book like this and I am very glad that I did. It was fantastic from beginning to end. The characters were very well written, an excellent plot with twists and turns and it just left me wanting more." Jo