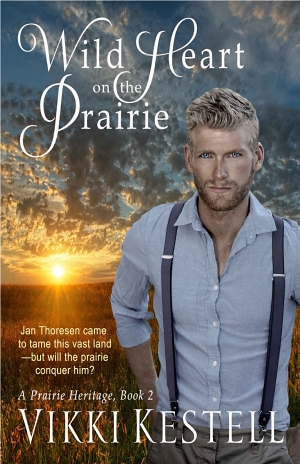 ———————————————————-
Vikki Kestell is an accomplished speaker, teacher and author of the Faith-Filled Fiction series, A Prairie Heritage.
Her website: vikkikestell.com or faith-filledfiction.com
Her Facebook author's page: Faith-Filled Fiction: The Writing of Vikki Kestell.
Author's page on Amazon
———————————————————-
What motivates you to write and how did you get started?
I wrote my first book during one of the darkest periods of my life. It was 1988. I had a notebook and wrote in it everywhere I went. In three months I had a complete story-and was amazed.
Someone offered to let me use their computer—a Commodore 64! If you don't know what that is, let me say that a) it didn't have a hard drive, b) you had to install the software into (wait for it!) a whopping 64k of RAM, and c) you have to save your writing to five-and-one-half-inch floppy disks! In any event, I learned to use it and have been a technophile ever since.
When I wrote my first book it proved to me that I could start and complete something difficult, and it gave me the courage to go back to school at age 39. I worked and went to school for the next 14 years! I earned my bachelor's degree in English/professional writing, took a semester off and went back to earn a master's degree, took two years off and went back to earn a Ph.D. in organizational learning and instructional technologies.
After working and earning three degrees, guess what? I figured I could write more books! LOL! That is exactly what I am doing now.
What motivates me to write? My mind is continually fermenting storylines and characters—and I derive such a sense of satisfaction when I see them onscreen and then in print.
My highest motivation is to present the goodness of God through stories that include the difficulties, tragedies, and injustices we all encounter. I write from the perspective of Christians who have personal relationships with God through Jesus and who desire to respond to life—life in all its pain and discouragement—in ways that honor him.
What's most rewarding about writing?
I am most rewarded when I hear from my readers that my books have encouraged them to be stronger in their own lives and to live for God without shame or fear. This life will pass away; the one that we all will enter afterwards our "real life," because it is eternal.
What's your favorite genre and why?
I love historical fiction, but I also love a bit of suspense and action/adventure. Any book and any genre that exalts good things and good people is right in my sweet spot!
Where do your characters come from?
Wow. I have SUCH a vivid imagination that it's hard to say exactly where my characters come from. All life is fodder for my writing, but once I have a character in mind, he or she becomes my companion and we have conversations, arguments, and discussions while I walk, exercise, sleep, and write. I love to write good dialogue—conversations that make my characters as real and as close as my own family.
Who is an author who inspires you and why?
That is a hard question! I read voraciously and love many authors in many genres. I've been influenced by past authors such as Jane Austin, Charlotte Bronte, Laura Ingalls Wilder, Louisa May Alcott, and Margaret Sydney, and contemporary authors such as Francine Rivers, Jan Karon, Bodie Theone, and Joyce Meyer.
What do you look for in other people's books?
Imagery, action, adventure, inventive plots, and strong characters with good hearts!
What are you writing now?
I just published Wild Heart on the Prairie, Book 4 in my series, A Prairie Heritage. I am now working on Book 5, Stolen. This series will have six books, so I am closing in on the conclusion!
What kind of book would you like to be known for?
I want to say first that I would not like to be known for trite, predictable, formulaic stories that neither engage nor inspire. I long to write books that my readers cannot stop thinking about, filled with characters who are authentic and memorable. Most of all, I want to be known for understanding the hardships of life in this fallen world and pointing to the God who has "made a way where there is no way."
What has writing taught you about yourself?
I believe writing is a portrait of my inward life—my thoughts, imaginations, and spiritual journey. What is inside me will come out in what I say and in what I write. Soooo . . . if I want good things in my writing, it starts with good things in my heart.
How has your life experience influenced your writing?
We've all been through difficulties; some of us have suffered tragedies. In the shared plight of life, every one of us searches for meaning, for hope, and for help. I use my own mistakes and sorrows to empathize with others and to reveal my own struggles.
What is the best thing you like about self-publishing eBooks?
I love having ownership of every part of my writing (except the proofreading) and I like the immediacy of ePublishing. If I need to update a book with information on a new release, I can get that done and published in less than 12 hours. I also like that ePublishing puts me in direct relationship with my readers! Some of my readers have become dear friends, and some of my dear friends have become my readers. In every instance, I cherish the people for whom I provide books, and I take very seriously the impact I have on their lives.
What encouraging advice can you offer new writers?
Write. Write every day. Doesn't matter if it's good or bad. Come back and re-read what you've written a few days later and revise. You'll find moments of brilliance and utter trash on the same page-but you would never have written the brilliance without also writing the trash.
I also believe in the adage "What gets measured gets done," and so I track how much I write. I keep a spreadsheet and, while I'm writing a book, track how much I write on a daily and weekly basis. While I'm working on a book, I set daily word goals and try to reach or exceed them. I'm not legalistic about it, but I make sure I consistently write 1,500 words a day; a good day is 2,500, and a great day is 3,500. Over a week I look for 10,000 to 12,000 words. Do that and you'll have a book in 9-10 weeks!
———————————————————-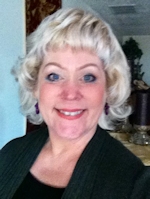 Vikki Kestell has more than 20 years of career experience as a writing, instructional design, and communications professional in government, academia, semiconductor manufacturing, health care, and nonprofit organizations. She holds a Ph.D. in Organizational Learning and Instructional Technologies.