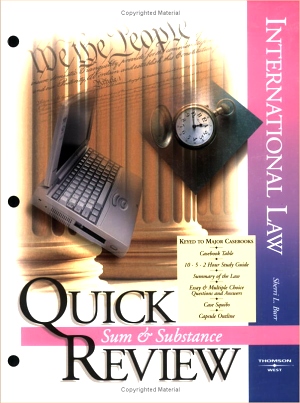 ———————————————————-
Sherri Burr
Author of many books, including Burr's Sum And Substance Audio Set on International Law and
Burr's Entertainment Law in a Nutshell, 2d (Nutshell Series)
Website: http://www.sherriburr.com/
Blog: http://www.sherriburr.blogspot.com/
———————————————————-
What motivates you to write?
A deadline.
Where do your characters or ideas come from?
I write nonfiction, and my ideas come from various sources. I have been inspired to write law books to create the best teaching materials for my students and law students across the country. I was inspired to write my business book "Strategically Frugal" because I felt my experiences might help others. I was inspired to write my memoir "Living with Nephew" after my Nephew left to return to California and I missed him.
What's most rewarding about writing?
Knowing that printed words have the potential to change people's lives for the better.
Who is an author who inspires you and why?
I like a lot of authors, but I am inspired most by those who have persevered despite rejection. Janet Evanovich received approximately 10 years of rejection letters before making her first sale and now she's a New York Times best-selling author. I love her Stephanie Plum series.
What do you look for in other people's books?
Humor.
What are you writing now?
I'm working on finalizing my memoir "Living with Nephew" and a book called "Strategically Frugal" about finances.
If you achieved great fame and fortune, would you continue to write?
Absolutely. Writing is my passion. I don't believe writers ever retire.
What encouraging advice can you offer new writers?
Write what you feel passionate about.