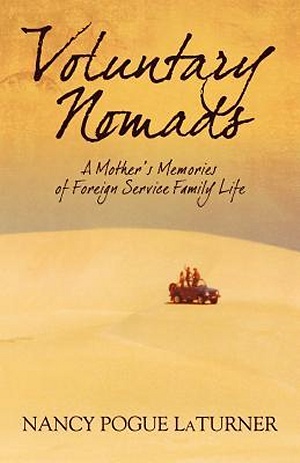 ———————————————————-
Nancy Pogue LaTurner
Author of Voluntary Nomads: A Mother's Memories of Foreign Service Family Life
Blog: http://voluntarynomads.blogspot.com
Author page on Amazon
———————————————————-
What made you choose the genre you chose to write in?
The gift of twenty-odd years lived overseas made memoir a natural choice for me. My memories of raising our family in Iran, Cameroon, New Zealand, Somalia, Dominican Republic, Austria, and Bolivia begged to be written and shared. At first I thought only of leaving a legacy for my family, but, as other folks expressed keen interest, I saw that my stories might have a much wider appeal. It didn't take long to realize that I had a book's worth of personal tales to tell.
What are you writing now?
Since the release of my book, I've been exploring. I guess you could say I simply love writing, because I'm equally excited about poetry, short stories, memoir, creative non-fiction, and flash fiction. Recently, I started working on a novel — a thriller — set in present-day Albuquerque. I don't want to give too much away, but I can tell you there's a fascinating female character pitted against an alarming villain with a taste for human flesh.
If you achieved fame and fortune, would you continue to write?
There's no doubt in my mind. I'm addicted to it. I can't imagine living without writing something every day. Writing helps me clarify my thoughts, make sense of my emotions, and record important events. For me, writing is not the means to achieving fame and fortune — writing is an end in itself.
What kind of book would you like to be known for?
If I were to become famous for writing a book, I would like that book to say something memorable about human experience in a way that touches the reader deeply and leaves her hopeful about the future of mankind. And I hope the author would be praised for her lyrical prose and rich imagery!
What encouraging advice can you offer new writers?
Write as often as you can, and read as much as you can. Take writing classes, study, hone your craft. Be the best writer you can be. Write and rewrite for excellence, not for reward. Take criticism seriously, but don't take it personally. Listen to your muse. Keep on writing!