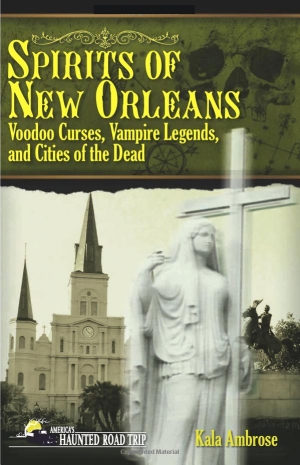 ———————————————————-
Kala Ambrose
Author of many books including: Spirits of New Orleans: Voodoo Curses, Vampire Legends and Cities of the Dead and Ghosthunting North Carolina (America's Haunted Road Trip)
Website: http://www.ExploreYourSpirit.com
Author page on Amazon
———————————————————-
What motivates you to write?
Every day I see something in the world that inspires me and my first thought is that I want to write about it and share the story. Whether I see two people kissing in the park, a young mother holding her child's hand walking into school, or listen to the hoot of an owl in my backyard while I sit under the stars, I find the magic in the world around me. The magnificence and the mystery of this world touches me and I want to share what I see, both on the earthly plane and the supernatural planes.
Reading and writing are natural parts of my daily life and even if I didn't write for a profession, I'd write for personal reasons as it helps me make some kind of sense of the world.
What made you chose the genre you chose?
The genre picked me! I've been psychic since childhood as well as an empath, and I have seen and felt ghosts and restless spirits my entire life. Through my many experiences with the supernatural and paranormal realms, I've interacted with powerful beings of light, faced encounters with beings from the dark side and seen ghosts from every walk of life. To write about these experiences was just a natural progression.
In my work as a wisdom teacher, I share the esoteric teachings from the ancient temples of Egypt and Greece with my students and across the US at the Omega Institute, Learning Annex, Lily Dale Assembly and online internationally. These teachings and philosophies are reflected in my books.
What are you writing now?
After writing four non-fiction books, 9 Life Altering Lessons: Secrets of the Mystery Schools Unveiled, Ghosthunting North Carolina, The Awakened Aura: Experiencing the Evolution of Your Energy Body and my latest, Spirits of New Orleans: Voodoo Curses, Vampire Legends and Cities of the Dead, I've decided to take on a new adventure and write my first work of fiction. The twist is that the characters in the book have visited me from spirit world and want me to tell their story, so it is very interesting as I open up psychically to hear what they have to say and be their scribe. The new book is about two sisters who discover their magical gifts and what happens to them when they embrace this magic.
To me, books are magical portals and you never know where a book will take you when you open the cover and begin the journey.
What encouraging advice can you offer new writers?
My favorite motivational quote is "Well Behaved Women Rarely Make History." So be bold, be daring and be fearless! As the great bard once said, "This above all, to thine own self be true." This applies in all things in life, especially in your writing. If a secret formula for writing exists, I don't know about it, but I'm sure that someone would be selling it by now if it did.
At the end of the day, it comes down to just doing the work, write what interests you and write, write, write everyday, even on days when you don't want to write, write anyway. The process and discipline make you a better writer and when you're not writing, read for inspiration.
BIO ABOUT KALA
Award winning author, national columnist, inspirational speaker, and host of the Explore Your Spirit with Kala Radio and TV Show (www.ExploreYourSpirit.com), Kala Ambrose's teachings are described as discerning, empowering and inspiring. Whether she's speaking with world-renowned experts on the Explore Your Spirit with Kala Show, writing about empowering lifestyle choices, reporting on new discoveries in the scientific and spiritual arenas or teaching to groups around the country, fans around the world tune in daily for her inspirational musings and lively thought-provoking conversations.
A highly interactive teacher on a mission to educate, entertain and inspire, Kala teaches and writes about ancient wisdom teachings and how their techniques can be used in modern day living. Her books, The Awakened Aura: Experiencing the Evolution of Your Energy Body and 9 Life Altering Lessons: Secrets of the Mystery Schools Unveiled cover these topics. In addition, Kala shares her love of history, travel and the spirit world in her books Spirits of New Orleans and Ghosthunting North Carolina. Her books are designed to explore the history of cities in an entertaining manner while sharing haunted stories and offering travel tips on how to best see the cities to shop, dine, stay, and visit the haunted sites.
Kala writes for the Huffington Post, the Examiner, AOL, Yahoo and Fate Magazine and presents workshops nationally on the Mind/Body/Spirit connection including Auras and Energy Fields, Developing Business Intuition, Haunted History and Wisdom Teachings at the Omega Institute, John Edward Presents Infinite Quest, the Learning Annex, LilyDale Assembly, and Daily Om. More about Kala at http://www.ExploreYourSpirit.com