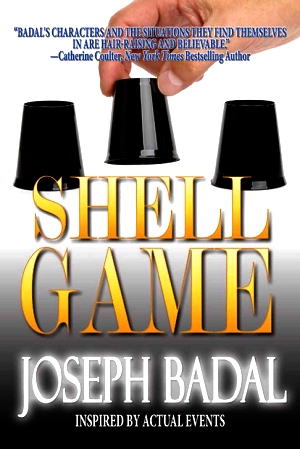 ———————————————————-
Joseph Badal
Author of many books including: Evil Deeds, Terror Cell, The Nostradamus Secret, and Shell Game
Website: http://www.josephbadalbooks.com/
———————————————————-
What motivates you to write?
I can't NOT write. Writing is almost like breathing. I suspect telling stories comes from a long family tradition of storytelling. I loved hearing those stories as a child and have continued the tradition with my own children, and now with my grandchildren. I guess I've just expanded the audience by writing down my stories and getting them published.
What made you chose the genre you chose?
I was so immersed in the classics in school that I retreated into lighter reading on the side. I discovered Robert Ludlum and loved his thrillers. Then I served in the U.S. Army in highly classified positions, which exposed me to real life thrills that have formed the basis for many of my novels.
Where do your characters come from?
My characters are an amalgam of people I have met over the years. The villain in my latest novel, Shell Game, is a creation formed on the personalities and characters of half a dozen people I have known, including a banker, a sociopathic attorney, a Wall Street investment banker, a mortgage lender, and a guy I grew up with.
Who is an author who inspires you and why?
There are many writers by whom I have been inspired. They include Tony Hillerman, Elmore Leonard, Robert Ludlum, and James Clavell, to name but a few. The quality I find most inspiring about these authors — and others — is their talent at creating characters that readers can see, hear, smell, and touch, and fabricating plots that hook the reader from page one. Clavell's Shogun is a prime example of a novel which has well-fleshed out characters and a dynamic plot.
What are you writing now?
I have just finished the first draft of The Lone Wolf Agenda, the 4th in the Bob Danforth series, which includes Evil Deeds, Terror Cell, and The Nostradamus Secret. The Lone Wolf Agenda tells the story of a terrorist group funded by OPEC and which attempts to subvert U.S. oil production. This book will be released next Spring.
If you were to write in another genre, what genre excites your writer's blood?
I would write historical non-fiction. Each of my thrillers is based on some historical event, seasoned with a lot of fiction. I can get very excited thinking about writing a book about an actual dramatic event that had significant repercussions, but which has never been exposed to the general public.
If you achieved great fame and fortune, would you continue to write?
Without a doubt!