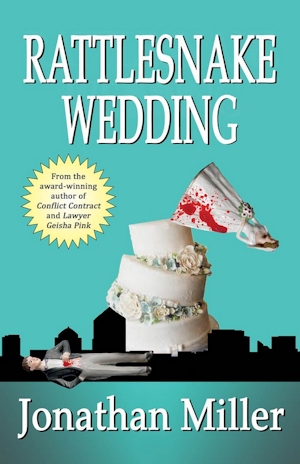 ———————————————————-
Jonathan Miller is a lawyer and an author. His books include Rattlesnake Lawyer, Lawyer Geisha Pink, and Rattlesnake Wedding.
Website: rattlesnakelaw.com
Jonathan's blog
———————————————————-
What motivates you to write and how did you get started?
My first published work was about looking for a job in Washington DC after law school. It was called "I fought the Law and the Law won."
I got a great job, but it ended due to budget cuts and somehow I found myself as a public defender in Roswell. I wanted to justify my existence and vowed to get a book out of it. On my drive down to Roswell, I began Rattlesnake Lawyer.
What's most rewarding about writing?
Putting my dreams on paper.
What's your favorite genre and why?
I write legal thrillers, but I tend to put them into other genres. I'm currently putting finishing touches on a western and science fiction manuscript, both featuring some of the same characters.
Where do your characters come from?
They start from people I encounter in real life, but soon take a life of their own.
Who is an author who inspires you and why?
I loved John Nichols' Milagro Beanfield War for New Mexico detail.
What do you look for in other people's books?
Can it surprise me? Can it give me something fresh? Does the opening scene pay off in a later scene?
What are you writing now?
I'm going over two old manuscripts. One is a modern western, based loosely on "The Searchers and High Noon." A lawyer named Marlow rescues his fiancé with the help of a Navajo bounty hunter. They hide out in the southwest until they have to hold off the authorities in a final shoot out. It's called "Navajo Repo."
The other is a science fiction novel set in the year 2112. It's called "A Million Dead Lawyers." There are no lawyers any more and Marlow is brought back to do a jury trial. Needless to say, nothing is what it seems.
What kind of book would you like to be known for?
Thrillers with a heart…and a funny bone.
What has writing taught you about yourself?
To notice the beauty and drama of everyday life.
How has your life experience influenced your writing?
That there will usually be a happy ending, but nothing is ever perfect.
What encouraging advice can you offer new writers?
Keep writing! Write from your heart, edit from your head.