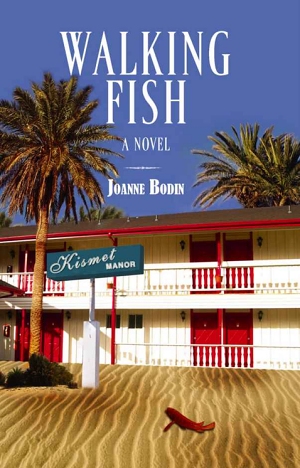 ———————————————————-
Joanne Bodin
Writer, Poet and Author of Walking Fish: A Novel and Piggybacked: poems
Book Website: www.walkingfishnovel.com
Author's page on Amazon
———————————————————-
What motivates you to write?
I do not need motivation. I cannot "not" write. If a few days go by and I haven't written, I begin to get restless and eventually I sit at the computer at home, or go to Flying Star to write, and a calm overtakes me as I begin to write again.
What made you chose the genre you chose?
I have always written poetry. I was in the Los Angeles Poet group in the 1970's through UCLA, bit I hadn't published at that time. When I retired from a 34 year career of teaching I decided I wanted to learn how to write a novel. I took a class from Sean Murphy, who I met through Southwest Writers. He ended up coming from Taosonce a week to teach a group of us at my home. We called ourselves the Divas of Dimension, all of us over 50 years old. He was a wonderful teacher and taught us about character development, depth and dimension in fiction writing, plot, story arc etc. I began reading authors who I admired, including Margaret Atwood, David Gutterson, and Richard Russo. I liked the genre of literary fiction because it uses metaphor, poetic imagery, and does not necessarily tell a linear story. Walking Fish is literary fiction as well as gay/lesbian fiction.
Where do your characters come from?
My characters usually come while I am writing, or in dreams. When I am working on a novel, if the character doesn't pop into my head when I am ready for them, then I wait until I dream the character. As far as how the character looks, that usually takes longer. Sometimes I can see a character at a restaurant, at the airport or in a magazine. The character of Kira, in Walking Fish, appeared one day in Eugene,Oregon when I was waiting for a plane in a snow storm. A young girl with blond hair sat next to me carrying a saxophone case. Kira, in the book, was a prodigy on the sax. It took all of my control not to talk to this stranger. But I then knew exactly what Kira looked like.
What's most rewarding about writing?
Receiving feedback from my readers. I love when readers email me or talk to me about my work. And I also like to mentor writers who have a passion for the craft, as I do.
Who is an author who inspires you and why?
Margaret Atwood and Amy Bloom are two authors who inspire my writing style. They think outside the box. Their stories are non-linear. They use metaphor and lots of back-story with thick descriptions of place. Amy Bloom's novel, Away is told from third person omniscient, a very difficult voice to portray. It is an amazing work of storytelling. Margaret Atwood's book, The Blind Assassin, is a story within a story, which informed me of possibilities for Walking Fish, in which I tell a story within a story.
What do you look for in other people's books?
A good plot. A good story. No typos, or few typos. Good research and accurate facts. Unusual and/or quirky characters who are not predictable. Meanderings of the mind where you do not know where you will end up.
What are you writing now?
I am writing another novel, a psychological thriller about a pathological liar involved in the esoteric world of orchids.
What kind of book would you like to be known for?
I do not have a preference at this point since my writing career is just taking off.
If you were to write in another genre, what genre excites your writer's blood?
I like literary fiction and poetry the best. I am attempting a psychological thriller in the mystery/thriller genre, so let's see how it goes. I am having a great time, however, writing this new novel.
If you achieved great fame and fortune, would you continue to write?
I will always continue to write. And, let's be real, "fame and fortune?"
What encouraging advice can you offer new writers?
My advice is my mantra, the three P's: passion, patience, and perseverance. Without these three things, a writer most likely, will not fulfill their dream of a finished product.