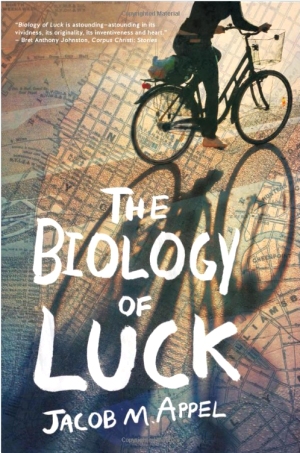 ———————————————————-
Jacob M. Appel is an author, bioethicist, physician, lawyer and social critic. He has published short fiction in more than two hundred literary journals. His first novel, The Man Who Wouldn't Stand Up, won the Dundee International Book Award in 2012.
Website: jacobmappel.com
Author's page on Amazon
———————————————————-
What motivates you to write and how did you get started?
As a child, I remember visiting the train station in my home town one day during the afternoon commute, and watching all of the commuters from New York City return in their loosened, noose-like ties to their suburban bedrooms.  I knew instantly that was not what I wanted to do with my life.  From there, the challenge became finding a job I could do in my bathrobe without getting arrested on a morals charge.
Writing seemed to fit the bill.  I wrote my first novel in fourth grade, it was fifty pages long in crayon.  I like to think of that as my "primitivist period."
What's most rewarding about writing?
There is no greater thrill in life that seeing your book on a shelf in a bookstore or library and being able to say, "I wrote that!"  Okay, there is one:  Sending a copy of one's latest novel to one's ex-girlfriends, especially the ones who said I wouldn't amount to much.
What's your favorite genre and why?
I confine myself largely to literary fiction.  I have a hard enough time imagining the world we live in; imagining another world might burn out my brain cells.  And I've very partial to short stories, because my own attention span is highly limited.
Where do your characters come from?
Generally, upper middle class families in the Northeast.  Usually they drive, but in a pinch, they take the bus.
Who is an author who inspires you and why?
I'm a great admirer of Kevin Brockmeier.  His imagination is simply more expansive than mine.  I also have a soft spot for Tolstoy.  He must have had one darn strong writing hand.  I also take great pleasure in the success of my own former writing students and mentees, many of whom (such as CJ Hauser, Brigit Kelly Young and Chanan Tigay) now have thriving literary careers of their own.
What do you look for in other people's books?
Pretty pictures and free prizes.  But I also really like moments where I recognize secrets to human character that I've never understood before.  For example, when I read Jane Austen, and I think one of her characters is a spitting psychotological replica of one of my relatives, I am impressed and amazed.  For those of your readers who have read The Great Gatsby, I once dated a woman who, like Jordan Baker, was capable of secretly moving a golf ball during a match and lying about leaving a convertible out in the rain.  While that wasn't my favorite relationship, Fitzgerald's ability to capture that specific variant of dishonesty makes me admire him greatly as a writer.
What are you writing now?
I just finished a novel manuscript about a history teacher who discovers that the American Civil War was a hoax.  If you're a big name editor and you'd like to purchase the rights, now is your moment….
What kind of book would you like to be known for?
One that can double as a whiskey decanter.   Alternatively, something memorable and moving that challenges the irrational underpinnings of our civilization.  Of course, that may be asking for too much, so I'll settle for one that people read in airports….
What has writing taught you about yourself?
Writing has taught me that I know far less about my fellow human beings that I sometimes think I do.  I have also learned that publishing a well-received book does not lead to reduced subway fares or better service at the post office.  I haven't even received any fan mail from Sophia Loren.
How has your life experience influenced your writing?
I'm a physician and psychiatrist by day, so my work forces me to be imaginative.  How so?  Because I can't write about anything I learn in the course of the workday, no matter how interesting, as a result of physician-patient confidentiality, so that makes me push my imaginative energies….
What encouraging advice can you offer new writers?
Be relentless.  Use all legal means to promote yourself.  Don't take no for an answer.  I've received 21,0000 rejection letters; my first novel was rejected by hundreds of agents and publishers before it won the Dundee International Book Awards and ten thousand pounds.  Much of literary appeal and success is about taste, and quite frankly, many of the gatekeepers have limited talents in this area.  So do not give up.