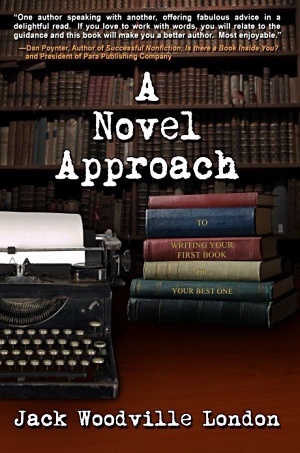 ———————————————————-
Jack Woodville London is an acclaimed author, historian, and trial attorney. He was honored as Author of the Year, MWSA 2011-2012, and winner, Indie Excellence Award, 2013. His short book on the craft of writing, A Novel Approach, recently won the Gold Medal for the 2015 eLit Writing Award and the Bronze in the Los Angeles Festival of Books. His other novels include French Letters: Virginia's War and French Letters: Engaged in War.
Website: jwlbooks.com
Author's page on Amazon
———————————————————-
What motivates you to write?
At some point in reading, as a boy or teen, I discovered that any given thing could be expressed in writing in more than one way. Stories didn't have to be just the facts and the end; the details themselves could be shaped, folded, turned around, and made interesting in their own right. Further along I began to notice that some sentences were so well-written that I just stopped and read them over and over and said to myself, "I wish I could have written that." In my small high school there were two or three scholastic competitions involving writing, such as 'ready writing,' the composition of a story in an hour, and the like. I fancied myself, quite incorrectly, as a man-child of letters, so at one point I wrote a 'book' about a boy (about my age….) in a small town (more of that…) who comes upon a wrecked sports car (one of my friends' cousin was a student in LA and had a Triumph TR-2 that he drove all the way to Texas every summer….), repairs it (I owned a set of Craftsman socket wrenches….), and drove off to have great adventures in Worez (Juarez), a mystic town where there were a lot of car races for boys my age with sports cars but, oddly enough, it never occurred to me that the people of Worez spoke Spanish.
What's most rewarding about writing?
A well-crafted paragraph is high on my list. I once sat on a plane next to a woman who was reading Engaged in War, no idea I had written it, and occasionally gasped and laughed and even cried once. That felt pretty good.
What's your favorite genre and why?
Historical fiction. We often know what happened; I truly enjoy reading a novel in which I get a sense of being there to see how and why. I guess I have the castles and corsets syndrome.
Where do your characters come from?
Some dark place deep in my head.
Who is an author who inspires you and why?
Short list:
– Evelyn Waugh – unequaled for ironic imagery. In Put out More Flags he created a draft dodger who learned how to make a living by taking the children who had been sent away from London during the Blitz and putting the worst ones into the mansions of rich people for a week or so, then blackmailing the mansionistes into paying to take them away. Too many good books to summarize here.
– Jonathan Frantzen – the finest ( a close first ahead of John Lanchester) at creating dense and rich stories of characters and families within the larger context of a story, each component of which becomes critical to the whole. The Corrections is phenomenal.
– Jane Gardam – the best by a large margin of writing very full stories in very short books. Old Filth and The Man in the Wooden Hat are essential reading.
What do you look for in other people's books?
Crisp writing. I detest writing that is sloppy and forces the reader to guess (usually incorrectly) what the story is about. I read the first pages of The Da Vinci Code under the impression that it was a long obituary about a 76 year old museum employee.
What are you writing now?
I just turned in my manuscript to the editor for a novel about two brothers who fight so bitterly that they could be Cain and Abel but whose parents have histories that are more akin to David and Bathsheba.
What kind of book would you like to be known for?
I don't understand the question. I would hope that readers would put my books down and say to themselves that they had never before thought about something in quite that way, and want more.
What has writing taught you about yourself?
I was not surprised at how much I enjoy the research; I have been surprised at how hard it is to not let the research overwhelm the story. I think that is a mirror of who I am. I once was introduced as someone of whom it was asked 'Do you have the time?' and I replied with a history of clock making.
How has your life experience influenced your writing?
Certainly as a child of Depression – and World War II – era parents and myself a Vietnam war army officer I am absorbed with the questions how our cultural norms have gone from impoverished to heroic to wealthy to entitled while creating a whole new class system built on wealth and consumerism rather than on merit and honor. I'm very troubled about what we seem to value.
What encouraging advice can you offer new writers?
Don't take shortcuts. Stories, both fiction and non-fiction, succeed if there is a story arc. Be faithful to it and the story will come through, even though you may have to write it twenty times and may also have to discard or delete a lot of great writing and research that doesn't really add to the story. Write it, read it, edit it, and ask over and over, 'What is the story I'm trying to tell?' Don't stop until you tell that story and no other.