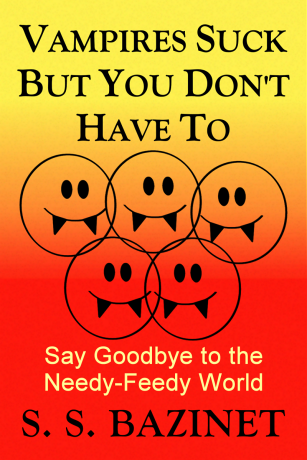 Publisher: Renata Press
Self help with humor
ISBN-13: 978-1937279004
Format:
Paperback: Amazon and Barnes & Noble
EBook: Amazon

VAMPIRES SUCK
BUT YOU DON'T HAVE TO
Book Description: We live in a needy-feedy world! We feel drained! But that can change! We can enjoy being us again! We can have fun again! Thatís what "Vampires Suck But You Don't Have To" is all about. Letís have fun and start dancing again!
---
Praise for "Vampires Suck
But You Don't Have To"
I laughed from the very first page."
"It's simple, brilliant and hilarious."
"With wit, wisdom and lots laughs, Ms. Bazinet not only shows us how to recognize the toxic people in our lives but just how to keep them from draining our emotional, financial and physical resources WITHOUT a magic wand."
"A fantastic gift for family, friends, and coworkers. It will make you laugh and leave you feeling good! Best book I've read in years!!!
"Bound to bring joy to anyone who reads it. This book is a kind of how-to guide to help the average reader navigate their way through the pitfalls of inter-personal relationships with people and situations that can be draining."