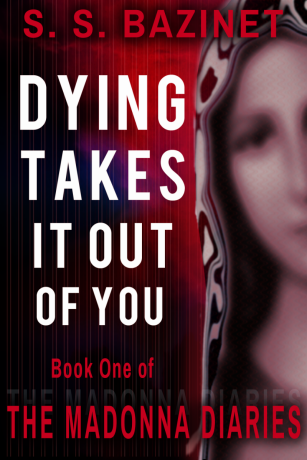 Publisher: Renata Press
Fiction; Humor; Fantasy
Category: Dystopian Fantasy
ISBN: 978-1-937279-18-9 (ePub version)
Format: eBook
EBook: Amazon
DYING TAKES IT OUT OF YOU
Book One of THE MADONNA DIARIES
---
Book Description: Dory, an angry, but gifted artist, knows he's cursed, just like his father said. He can hear the pain of the world. It seeps in through "the cracks" in his head. When millions fall victim to an incurable virus and Dory can't shut out their screams, he decides his only option is to kill himself. Instead of succeeding, he becomes the latest victim of the disease. He's going to die, but he has two choices. He can either let the virus quickly turn him into a vicious, unthinking monster, or he can fight to retain his identity to the end. If he chooses the later, he'll have to resist the blood lust and consuming pain that ensues once a person is infected. When his brother begs him not to lose hope, Dory knows he has to make the right decision. But will he be strong enough to bear the misery that comes with that decision? And most importantly, will he finally find the freedom and redemption he's always yearned for?
Gritty tale of struggle and devotion as two brothers battle to save a life!
Excerpt from the first chapter: DEFINITION OF DYSTOPIA

Dystopia is where you wake up screaming. It's wishing the future, the Mad Max kind, is a down-the-road possibility and knowing it's already arrived.

We all started living in dystopia the moment Adam and Eve got tossed out of paradise. We've been scratching and kicking ever since.

Dystopia is where we're birthed. Dystopia is where we take our last breath. I'm not far from that last breath. Or maybe I'm just dreaming again, wishing I could be that lucky.
EBook available on: Amazon