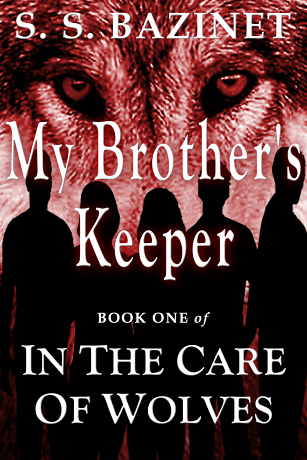 Publisher: Renata Press
84,500 words
Fiction; Paranormal; Fantasy
ISBN-13: 978-1-937279-21-9
Format: Paperback and eBook
Paperback: Amazon and Barnes & Noble
EBook: Amazon
IN THE CARE OF WOLVES
Book One: My Brother's Keeper
Book description: In this fast paced thriller, sixteen-year-old, timid Theodore finds out his real family are werewolves and they're being hunted to extinction. When they trust him with their lives, none are prepared for what happened to Theodore when he was abducted as a baby. Is Theodore their worst nightmare, programmed to destroy them? Or will he find a way to override what was done to him?
---
Praise for "In the Care of Wolves: My Brother's Keeper"
"You will be scooped up by the scruff and carried along with this pack on a non stop thrill ride."
"This is the werewolf book for people who didn't think they would want to read a werewolf book. I loved it!"
"You will fall in love with the characters, particularly Theodore and his new found family as they struggle for survival and Theodore comes to terms with his pain, vulnerability and unique powers. This book is fresh, powerful, intriguing and masterfully crafted. It touched my heart and I want more."
Paperback: Amazon and Barnes & Noble
EBook: Amazon